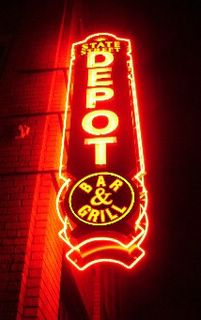 Neon sign.
Bellingham's Greyhound Depot is now part of a multi modal transit hub with Amtrak. It's moved to the Fairhaven District. Old downtown spot, where Greyhound was, is a fancy new restaurant. The State Street Depot.
Looks like it's now (Sept. 07) out of business, but sign hasn't been removed. Bellingham businesses sure come and go.

Now there's a new business there and the sign is gone (Jan. 09).