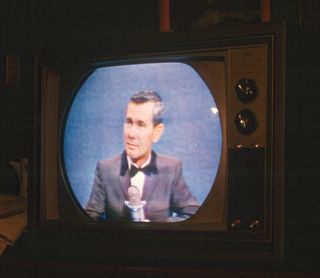 1964 RCA color TV
Remembering the TV I grew up with. Picture from my brother Bill's slide collection. One of the first color TVs in the neighborhood, mid 1960s. Ran on vacuum tubes. Pretty exciting to have color, back then. Often the color was not very good. Picture was likely to be black and white with color bands across the screen, but other times the color would be surprisingly true.
In my grade school mind I got the idea that the TV was, somehow, "learning" how to improve it's reception. A booklet that came with the set said it had "automatic fine tuning" which "remembered" the setting for each channel. Somehow, I thought it was like today's self driving car technology. The more experience self driving cars get on the road, the more the technology "learns" how to drive.
I thought I was giving the TV "experience" so it could "learn" better reception when I tried to tune in KLEW TV out of Lewiston, Idaho. KLEW was that obscure, snowy channel. One could barely see any picture in all the static. Most of my family would just watch the 3 channels, from Spokane, and not bother with KLEW. If I watched KLEW, I thought it would give the TV some good hard knocks experience for improving the reception. Sometimes it would get a little better, giving me hope, but then it would fall back to static on another day.
Those were the days of the TV repairman. They would come out in their truck to fix the TV when, for instance, a vacuum tube gave out. My hopes about artificial intelligence in the TV were dashed completely when the repairman took the cover off one day. I saw 12 separate tuners for the 12 channels. Oh, that's how it "remembers" the fine tuning for each channel. Each tuner, with it's own fine tuner setting, would click into place when the channel was changed. Fine tuning knob was a ring around the outside of the main channel selector. It would be engaged, mechanically, to a separate tuner for each channel. Below the VHF channel selector was UHF which worked like a radio dial with no "click." We had no UHF reception.
Later I realized that reception of KLEW TV was basically doomed by the position of our TV antenna. The antenna, outside our house, was pointed to Spokane, rather than Lewiston. Some folks, back then, had rotors for their antennas. My dad was kind of a stoic and figured that the 3 channels, from Spokane, were sufficient. We didn't have to get too fancy.
In just a year, or two more, we did get a new channel. Educational TV, from Pullman itself where we lived. It was KWSU on Channel 10. Picture very sharp as it came, at first, from Bryan Hall clock tower on the WSU campus; just a hop skip and a jump away from my childhood home. KWSU was only in black and white tho, back then.
Now, KWSU TV broadcasts from
Kamiak Butte
. It's been called a "lone wolf transmitter site" as some antennas, pointed toward Spokane, aren't pointed toward Kamiak, except for south of Kamiak where Pullman itself lies. Of course, like most stations these days, KWSU TV is on cable systems and has much of it's video on the web.
Today, there is a true plethora of channels and videos at our fingertips. Even on smartphones. We've truly gotten fancy.
One of the things I did, when I got my first smartphone (summer of 2016), was to find the web site of KLEW TV. I watched part of the newscast from Lewiston, Idaho; as if it was a ritual of initiation for the smartphone. Paying homage to my childhood. KLEW came in clear as a bell, here in Western Washington; a long ways from Lewiston. These days, it doesn't really matter how far away the web site is.
Over the years color reception did get better, even on that old TV. The TV wasn't learning, but TV stations have kept improving their technology.