To me, gyms are more social centers than exercise places. I get so much exercise by not owning a car, who needs the gym for that anyway?
Wade King Recreation center in Bellingham glistens, but downtown YMCA is more like a community center.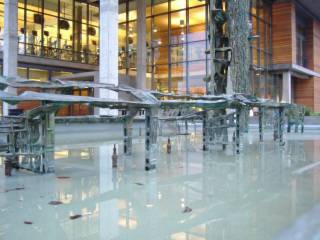 Glowing Wade King center at WWU beckons one out of the rain.
When I use a gym, I often make a beeline to the men's locker room where nudity awaits. Steam, sauna and some of the best conversation. It's better than a bar. YMCA is more likely to be sociable than Wade King.
Sometimes I go to an aerobics class, if the music is good. Like nightclubs, I rate it by music, not WORK out criteria.
My body regulates its self very well; thank you. It's on "auto pilot" and doesn't bother me with groans or aces. It just lets the music flow.
A nice byproduct of bicycling over the years.
Only folks connected to Western, such as students, staff or alumni, are allowed to use Wade King.
I qualify; as an alumni.
Bought a pass to try out the new place. It was 15 visits on a punch card.
It's nice, but for fitness, one might as well just jog from downtown Bellingham to WWU campus and save the money.
If one is into equipment, there's lots of it.
The pool is real good also. Probably the nicest pool in Bellingham.
No steam room, or sauna though. The shower consists of private cubicles. Not a big open shower. This, along with no steam or sauna makes the locker room less of a social experience. People just passing through on their way to somewhere else. It's pragmatic, basic.
There is a hot tub, out on the pool deck, but conversation tends to be buried in ambient sound. Echoing on the big pool deck.
Most people don't go the gym for social anyway, or do they?
Jogging on the track was quite interesting, the first time. It's something new.
Indoor track at Wade King Student Recreation Center, Western Washington University, Bellingham.
After a few sessions, it does become "Just running around the same circle over and over again."
I must admit, the jog up Indian Street to WWU's campus offers more variety.
One doesn't need to buy a punch card for that.
Some alumni struggle getting up to the campus, or complain that there isn't enough parking there.
I haven't succumbed to that feeling, getting around by bike even though I recently passed my 50Th birthday.
My dad used to say, "why do people drive clear across town just to run circles around the track?" "Shouldn't they just jog to the track and back?"
"Save oil."
Like biking through a magnificent forest, Wade King fits well into a diversified sphere of local recreation.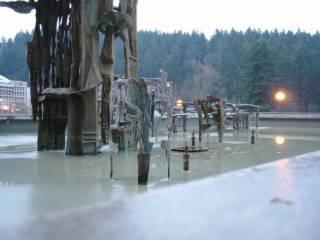 Rain Forest Sculpture by a James Fitzgereld. Stands in front of Wade King Recreation center at Western Washington University.
Why do so many of the private fitness clubs, require initiation fees? That's one nice thing about Wade King, or a place like the YMCA. No initiation fees.
One ought to be able to buy a membership with out having to tie one's self down to the farm. Wade King does require one to have ties to the university however.
People "bar hop." What about jogging through several fitness centers on the way to a healthy life?
Mix it up. Get some variety.
Happy New Year's and make your resolutions fun. "Play out" instead of "WORK out."
Another rain forest sculpture by (I think) same artist as piece in front of Western's fitness center. This one is located in my childhood home town of Pullman, WA. Near a WSU dorm complex called Regent's Hill.